The Dan Le Batard Show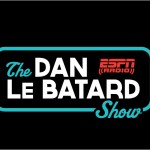 The Dan Le Batard Show is a three-hour weekday program broadcasted from Miami and will explore major sports issues of the day. The Dan Le Batard Show can be heard from 10 – 1 p.m. on ESPN 105.1 The Zone.

Le Batard and his co-host, "Stugotz" (Jon Weiner), will bring their unique blend of self-deprecating humor, insightful guests, thoughtful, and at times, provocative conversation to ESPN Radio's national audience. Rotating guest co-hosts, including Bomani Jones and Greg Cote, will often join Le Batard and Stugotz to provide listeners with a slightly different experience every day.
The national show will be available on ESPN Radio, espnradio.com, and the ESPN Radio app.
Le Batard will also continue to host ESPN2's Highly Questionable weekdays at 4 p.m. Bomani Jones will continue role on the program.