The Dan Le Batard Show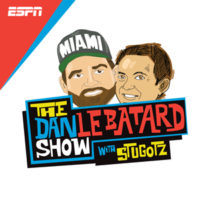 The Dan Le Batard Show is a two-hour weekday program broadcasted from Miami and will explore major sports issues of the day. The Dan Le Batard Show can be heard from 10 – 12 p.m. on ESPN 105.1 The Zone.

Le Batard and his co-host, "Stugotz" (Jon Weiner), will bring their unique blend of self-deprecating humor, insightful guests, thoughtful, and at times, provocative conversation to ESPN Radio's national audience.
The national show will be available on ESPN Radio, espnradio.com, and the ESPN Radio app.