Press Row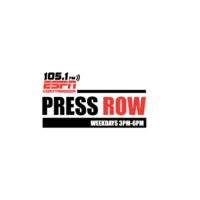 Join David Paschall from the Chattanooga Times Free Press along with Wells Guthrie every weekday afternoon for an in-depth look at local, regional and national sports.
David Paschall is a sports writer for the Times Free Press. He started at the Chattanooga Free Press in 1990 and was part of the Times Free Press when the paper started in 1999. David covers University of Georgia football, as well as SEC football recruiting, SEC basketball, Chattanooga Lookouts baseball and other sports stories. He is a Chattanooga native and graduate of the Baylor School and Auburn University.
David has received numerous honors for his journalism, including various Tennessee state sports writing awards. In addition, he is a former voting board member of the now defunct Harris Interactive College Football Poll and currently serves on the voting board for the Heisman Trophy; he also serves on the voting board for the Biletnikoff and Lombardi awards. He is a past Southern League writer of the year, and a former board member of the Football Writers' Association of America.
Wells Guthrie was named Program Director of ESPN 105.1 The Zone in late 2011. He began his career in radio as an intern at the station a year earlier, before quickly moving into a producer role. During 2010, Wells served as Executive Producer of The Nick Bonsanto Show and produced play-by-play broadcasts for both UTC athletics and the Chattanooga Lookouts, who at that time, was the AA affiliate of the Los Angeles Dodgers.
Since then, Wells has co-hosted the station's afternoon-drive program, In The Zone with Jim Gumm. In September of 2013, the show was re-branded to incorporate Wells' name, Gumm & Guthrie. As of 2015, Wells continues to serve as Program Director of ESPN 105.1 The Zone. Wells currently produces content for the station's new afternoon-drive show, Press Row. He also serves as a fill-in host on the station.
Wells is a native of Fairfax, Virginia, a suburb of Washington D.C. He played baseball at Virginia Wesleyan College in Norfolk, VA before transferring to his parents' alma mater, the University of Tennessee Chattanooga, to finish his degree in Sports Administration.