Chattanooga Football Club Radio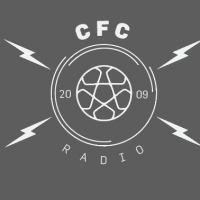 Chattanooga Football Club Radio is a weekly radio program dedicated to any and all things related to Chattanooga Football Club. Hosts Peter "Wooly" Woolcock and Reed "Farnz" Farnsley bring you engaging interviews, behind-the-scenes news, and club updates in a fun, entertaining hour each Saturday from 12-1 p.m.
Chattanooga Football Club is an amateur soccer team founded in 2009 that competes in the National Premier Soccer League. Chattanooga FC currently holds the US record for largest amateur soccer attendance (18,227 fans on August 8, 2015 in Finley Stadium in the NPSL national championship).
Peter Woolcock aka "Wooly"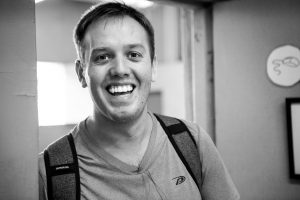 Peter "Wooly" Woolcock, is the director of Operation Get Active a program of the Chattanooga Football Club Foundation. In addition to the work with the foundation, Wooly also works for the club on game day operations, events and anything that requires another set of hands.
Wooly grew up in Exeter in the southwest of England and moved to Chattanooga with his wife Stephanie (originally from the city) in the summer of 2015. His previous work experiences have seen him work in four different countries, from teaching girls soccer in Mumbai to working on the London 2012 Olympic and Paralympic Games. Wooly has always been a fan of CFC from afar since it's inception in 2009 but it wasn't until the summer of 2015 when he got to see his first match. His other allegiance is to his hometown club, Exeter City FC who play in EFL League Two in England.It's a joy to be working with Farns. He's a friend, colleague and he does all the running for me when we play soccer together. CFC is a great team to be part of and we can't wait to share this over the airwaves.
Reed Farnsley aka "Farnz"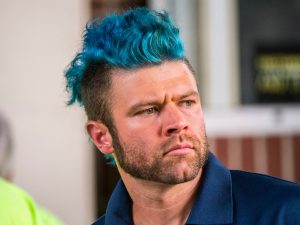 Reed "Farns" Farnsley is the Administrator for Chattanooga Football Club and is directly involved with much of the day-to-day operations of the club. Having made the team in 2010 and 2012, he found his way back to the club in 2014 as a part-time ticket taker, and, in 2015, he was hired on as Administrator.
Reed grew up in Ooltewah, TN and currently lives in downtown Chattanooga. He enjoys playing soccer (with Wooly of course!) and being involved in his church and community. He loves the electricity of Chattanooga FC matches and the connection the club has to the community. If you see a guy with a blue mohawk in Chattanooga during the summer, yell "Hey, Farns!" and see if he turns around, it's probably Reed. He thinks "Keep On Kickin' In the Free World" is a pretty catchy sign off and he might try to convince Wooly it's a good idea (along with a hundred other reckless radio show ideas). His post-retirement plans include cheering in Section 1009 with the Chattahooligans at Chattanooga FC matches. His advice to future generations is "Stay humble, stay hungry."