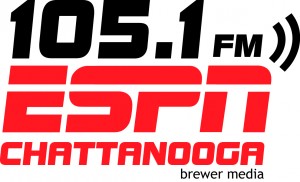 Interested in advertising on ESPN 105.1 The Zone? We have a package to fit your budget! ESPN 105.1 is the sports leader in Chattanooga, featuring a mix of both local and nationally syndicated sports programming. ESPN 105.1 The Zone is also the exclusive rights holder of the Atlanta Falcons and Atlanta Braves in the Chattanooga market.
Our experienced sales team will walk you step-by-step through the advertising process.
In addition to ESPN 105.1 The Zone, Brewer Media Group owns and operates four (4) other local radio stations (Power 94.3 – Urban Contemporary, Groove 93.5 – Urban Adult Contemporary (R&B),  BIG 95.3 – Classic Hits and EASY 106.9 – Soft AC) covering every demographic. Advertising on our multiple websites and online platforms is also available.
Give us a call today and hear your company, business or product on the radio tomorrow.
Director of Sales
Mike Baskin
Phone: (423) 242-7679
Email: MikeBaskin@BrewerMediaGroup.com