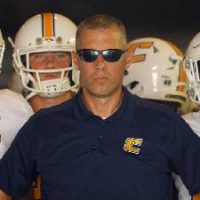 University of Tennessee at Chattanooga head football coach Rusty Wright joined Press Row to discuss the upcoming season, which will be played this Spring after last season was cancelled due to the COVID-19 pandemic.
Coach Wright also addressed the firing of former UTC assistant coach Chris Malone for a racially insensitive tweet and the news that star wide receiver Bryce Nunnelly has entered the transfer portal.
In roughly two-seasons with the Mocs, Nunnelly had 138 receptions for 2,053 yards and 12 touchdowns.
Rusty Wright – Press Row
Thursday, January 28
Photo Credit: Chattanooga Times Free Press