The University of Tennessee at Chattanooga has fired offensive line coach Chris Malone after he mocked Georgia politician and voting rights activist Stacey Abrams in a racist tweet.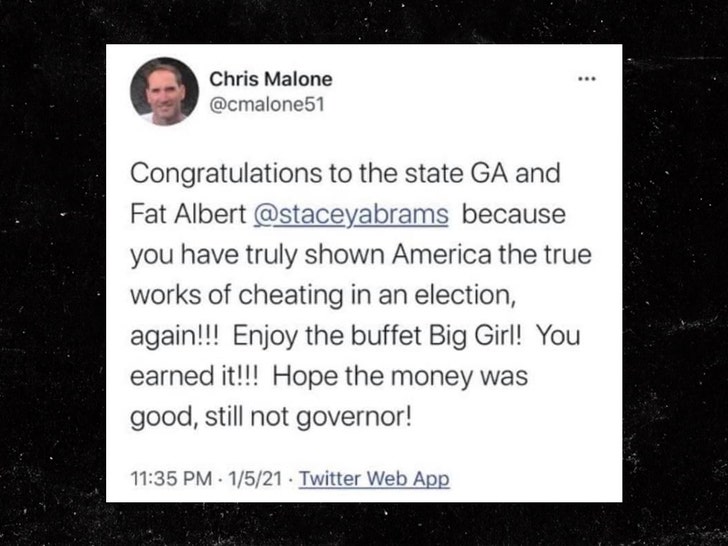 Both UTC head football coach Rusty Wright and athletic director Mark Wharton have issued statements, which can be read in their entirety below.
Mark Wharton – UTC Vice Chancellor & Directory of Athletics
"Last night, a totally inappropriate social media post by a member of our football staff was brought to my attention.  The entire post was appalling. The sentiments in that post do not represent the values of our football program, our Athletics department or our University. With that said, effectively immediately, that individual is no longer a part of the program."
Rusty Wright – UTC Head Football Coach
"Our football program has a clear set of standards. Those standards include respecting others. It is a message our players hear daily. It is a standard I will not waiver on. What was posted on social media by a member of my staff is unacceptable and not any part of what I stand for or what Chattanooga Football stands for.  Life is bigger than football and as leaders of young men, we have to set that example, first and foremost. With that said, effectively immediately, that individual is no longer a part of my staff."
Malone, who has since deleted his Twitter account, was hired by the Mocs in 2019 to coach the offensive line after an earlier stint at the school. He previously held coaching positions at Old Dominion, James Madison University, Virginia State and UMass. Malone attended Virginia Tech in the 1990s and was a four-year starter on the offensive line.
During the 2013 season, Malone served as the offensive line coach and run-game coordinator at Virginia State, a historically black university.