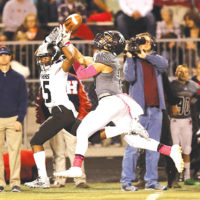 Former Heritage High School star Luke Grant has returned home to play football for Rusty Wright and the Chattanooga Mocs after one year at Mars Hill University, a Division II program in North Carolina.
Grant was a three sport prep star at Heritage, playing baseball and basketball in addition to football. He earned All-Region and All-State accolades and was also named to the Chattanooga Times Free Press Best of Preps team in his senior season as an outfielder. On the gridiron, Grant led the Generals to a 9-2 record in 2017, which is the best in program history. He hauled in 64 passes for 1,065 yards and 15 touchdowns while earning Region 6-AAAA Co-Offensive Player of the Year and All-State honorable mention honors. He holds Heritage's all-time record in receptions (197), receiving yards (3,205), receiving touchdowns (32), all-purpose yards (4,936) and interceptions (10).
The 5-foot-11, 185 pound athlete is listed as a defensive back on the Mocs' roster with three years of eligibility remaining. He played receiver while at Mars Hill, recording one reception for 24 yards against Tusculum. His offensive game is identical to that of Mocs' wideout Bryce Nunnelly, who has garnered attention as an All-SoCon talent.
He mainly saw snaps at corner during high school, which is most likely where he'll fit in on the Lorenzo Ward's defense. The Mocs have four senior defensive backs on the roster (Brandon Dowdell, D.J. Jackson, Jerrell Lawson and Jordan Jones), which means Luke Grant could find playing time as an upperclassmen.
Photo Courtesy: Chattanooga Times Free Press