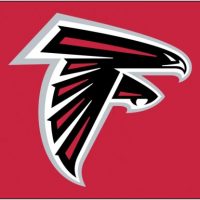 The Atlanta Falcons have been busy throughout the first wave of NFL free agency, adding offensive weapons to play along side quarterback Matt Ryan and wide receiver Julio Jones.
The Falcons came into the 2020 offseason with eight first-round picks on the offensive side of the ball, and with the additions of tight end Hayden Hurst, running back Todd Gurley and receiver Laquon Treadwell through free agency, the Falcons will be able to field an entire offense of first-rounders in certain personnel groupings during the 2020 season.
In an 11 personnel package, which consists of one running back, one tight end and three receivers, Atlanta's offense could look like this:
QB: Matt Ryan
RB: Todd Gurley
WR: Julio Jones
WR: Calvin Ridley
WR: Laquon Treadwell
TE: Hayden Hurst
LT: Jake Matthews
LG: James Carpenter
C: Alex Mack
RG: Chris Lindstrom
RT: Kaleb McGary
Personnel groupings change throughout the course of a game, obviously. The Falcons lined up in 11 personnel in 43% of the team's snaps. They lined up in 21 personnel (two running backs and one tight end) 3% of the time and 12 personnel (one running back and two tight ends) in 26% of snaps.
Their base personnel grouping is 11 personnel, but the lack of a reliable third receiving option caused the Falcons to get away from that grouping. The addition of Treadwell, who played behind two of the league's best receivers in Stefon Diggs and Adam Thielen in Minnesota, gives Atlanta a talented third wideout who could take attention off of WR1 Julio Jones.
A change of scenery will be good for the former Ole Miss Rebel. Treadwell has recorded 701 receiving yards and only two touchdowns across four years in the NFL.
Gurley comes to a Falcons' offense that finished 30th in the league in rushing and 24th in rushing touchdowns. If the 2017 and 2018 Todd Gurley shows up this season, the Falcons will be tough to beat.
Hayden Hurst took a back seat to Mark Andrews in Baltimore last season. Through 28 career games, Hurst has hauled in 43 passes for 512 yards and three touchdowns.
The Falcons are trying to keep their head above the water in the NFC South, which looks like one of the more interesting divisions in the National Football League on paper due to the offseason acquisitions by each team in the division.
Tampa Bay scooped up Tom Brady to lead the Bucs' offense in 2020, igniting the "TB to TB" hype while the Carolina Panthers have completely reconfigured their quarterback room with the signings of Teddy Bridgewater and XFL star P.J. Walker. The Panthers also added wide receiver Robbie Anderson in an effort to rebuild the Panthers offense. The Saints re-signed Drew Brees and added a top target in Emmanuel Sanders. New Orleans also bolstered their defensive backfield with the signing of safety Malcolm Jenkins and the XFL's leader in interceptions, Deatrick Nichols.