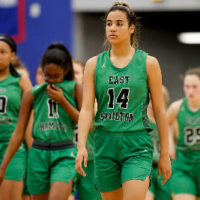 The Chattanooga area has had its fair share of talented girls' basketball players. Rhyne Howard, a first-team AP All-American at the University of Kentucky is an example of the rich history on the hardware in the Scenic City. Like Howard, three Chattanooga area girls' basketball prep stars, Hamilton Heights' Treasure Hunt and Kamilla Cardoso and East Hamilton's Madison Hayes, received All-American honors from MaxPreps on Thursday. Cardoso received first-team honors, Hunt was named to the second-team and Madison Hayes received an honorable mention nod.
Hamilton Heights' girls' basketball team finished No. 2 in the country in MaxPreps final national rankings that they call the Xcellent 25. Cardoso and Hunt were a big reason for that high ranking. The duo averaged a combined 42.0 points per game. The Lady Hawks scored 66.6 points per game as a team.
Cardoso, a 6-foot-7 Brazilian post player, will continue her basketball career at Syracuse. In addition to her 17.3 points per game, she averaged 9.8 rebounds per game and 2.8 assists per game. She was a viable option for MaxPreps National Player of the Year, but UConn signee Paige Bueckers received the nod instead.
Treasure Hunt was named MaxPreps' Tennessee Player of the Year on Wednesday after averaging 24.7 points per contest this season. She was the No. 1 offensive weapon for the Lady Hawks this season, but was a presence on the boards as well, hauling in 4.9 rebounds per game. Hunt signed with Kentucky and head coach Matthew Mitchell has to be ecstatic to have both her and Rhyne Howard on the same team next season.
Another SEC women's basketball signee from the Scenic City is Madison Hayes. The future Mississippi State Lady Bulldog topped her 49-percent mark from the field in her junior season with a 60-percent clip in her senior year. Hayes averaged 25.8 points and 11.3 rebounds per game for the East Hamilton Lady Hurricanes, who finished 19-13 and saw their season end in the Region 3-AAA quarterfinals. This past summer, she played on the FIBA 3×3 World Cup in Ulaanbaatar, Mongolia and brought home a gold medal finish.
The MaxPreps All-American honor only scratches the surface of the accolades this trio of sensational student-athletes have collected this season. All three were named McDonald's All-Americans and would've played in the annual McDonald's All-American Game, but the contest was canceled due to the ongoing pandemic of COVID-19.
Photo Courtesy: Chattanooga Times Free Press