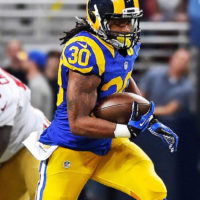 Not even 24 hours after the Los Angeles Rams released running back Todd Gurley, who was once the highest-paid back in the league, the Atlanta Falcons scooped up the 25-year-old, signing him to a one-year, $6 million contract.
The former University of Georgia running back posted a video on his personal Twitter account with the caption "Rise Up I'm Home". Gurley spent three seasons in Athens before being drafted by the Rams with the No. 10 overall pick in the 2015 NFL Draft.
Rise Up I'm Home‼️♥️🖤 #GoDawgs #ATLpic.twitter.com/IJ0NVsomir

— Todd Gurley II (@TG3II) March 26, 2020
After wowing fans with his running capability and bringing fans inside of UGA's Sanford Stadium to their feet, Gurley will return to the Peach state to play for the state's NFL team. Football fans in the state are familiar with what Gurley can do on the gridiron after tallying over 3,200 rushing yards and 36 touchdowns.