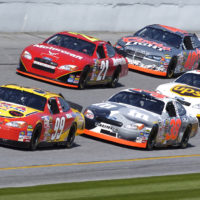 In a time where the sporting events have been postponed or even canceled, NASCAR introduced the country to iRacing with some of the sports biggest stars, including Denny Hamlin, Jimmie Johnson and Dale Earnhardt Jr.
Hamlin notched victory No. 31 in the iRacing field, which was where he made his splash in his racing career before his time with NASCAR. He played a big role in putting on the virtual race. He competed in the comfort of his home in North Carolina barefoot. He built a rig for the competition that cost an estimated $40,000.
RETWEET TO CONGRATULATE DENNY HAMLIN ON HIS #ProInvitationalSeries WIN!!! pic.twitter.com/PU5v4O6PaK

— FOX: NASCAR (@NASCARONFOX) March 22, 2020
NASCAR has suspended racing until at least May 9 due to the COVID-19 outbreak. Series executives and iRacing put together the inaugural eNASCAR iRacing Pro Invitational Series in roughly one week. NASCAR was supposed to hold its race at Homestead on Sunday, but decided to use the race as the opening race for the eNASCAR iRacing Pro Invitational Series.