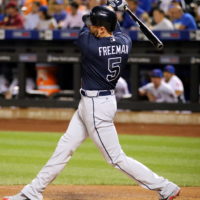 Atlanta Braves' first baseman Freddie Freeman is resting in the comfort of his home, patiently awaiting for the 2020 baseball season to resume after the COVID-19 pandemic brought the last few weeks of spring training to a halt.
Freeman spent his Sunday afternoon in the backyard playing a game of backyard baseball with his son, Charlie. His wife, Chelsea, was able to catch a portion of the action on video.
Backyard baseball ⚾️ pic.twitter.com/JZstzUR60v

— Chelsea Freeman (@chelseafree5) March 22, 2020
The youngest Freeman is serving his dad some chest-high heaters and Freeman did what the five-time All-Star first baseman does best and clobbered the pitch, much to the dismay of Charlie.