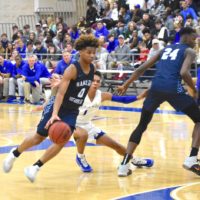 The Hamilton Heights Christian Academy boys' basketball team finished just outside the top-10, at No. 11 in MaxPreps' final national top-25 poll.
Head coach Zach Ferrell's team finished 28-3 overall in the 2019-2020 campaign, which concluded with a NACA championship after defeating Tennessee Prep Academy 64-54 on Feb. 28. The Hawks also had a good showing at one of the most prominent high school basketball tournaments in America, the City of Palms Classic. HHCA went 2-0 with wins over Kansas' Sunrise Christian Academy, who finished fourth in the final rankings, and Minnesota Prep Academy. The win over Sunrise was one of three losses the Buffaloes suffered all season.
University of Florida signee and four-star small forward Samson Ruzhentsev led the charge for the Hawks. The 6-foot-7 rim-rattler had an incredible final prep season before heading to Gainesville, averaging 17.5 points per game. New Mexico signee Bayron Matos contributed on the glass, hauling in 7.5 rebounds per game, which was second on the team behind senior Andersson Garcia's 9.6 boards per contest. Garcia has received offers from Power 5 programs Mississippi State and Kansas State over the past two weeks.
The Hawks will return point guard Dominiq Penn who currently holds a handful of Division I offers as well. Penn was the team's third leading scorer with 9.8 points per game.
The No. 11 ranked finish is the highest the team has received since the 2015-16 season when the Hawks finished No. 19 in the poll. Hamilton Heights just cracked the poll last year, finishing No. 25. They are the only team from Tennessee honored in the rankings.
Photo Courtesy: Chattanooga Times Free Press