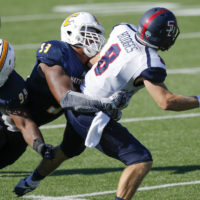 Former University of Tennessee-Chattanooga defensive lineman Keionta Davis has re-signed with the New England Patriots, the team who signed him as an undrafted free agent in 2017.
He wasn't on the Patriots' active roster during his rookie year, but earned a roster spot in 2018. Davis played in six games, making three starts and recording six total tackles. He has also earned a Super Bowl ring as a member of the New England Patriots when they defeated the Los Angeles Rams in Super Bowl LII.
Davis was a two-time All-American, three-time All-SoCon and All-SoCon freshman team honoree during his four year playing career at UTC from 2013-2016. He is second in program history with 31.0 career sacks behind former teammate Davis Tull, who is currently a free agent.
The Red Bank High School graduate spent last year on New England's injured reserve list, but is looking forward to the chance to get back on the field this coming season.
Photo Courtesy: Chattanooga Times Free Press