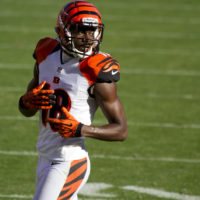 The Cincinnati Bengals have placed a franchise tag on former University of Georgia standout and seven time Pro Bowler A.J. Green, per reports.
The #Bengals informed star WR A.J. Green they're placing the franchise tag on him, per source.

— Tom Pelissero (@TomPelissero) March 16, 2020
Green is expected to make $17.865 million with the franchise tag, according to CBS Sports' Joel Corry.
The wideout has had troubles with injuries during his NFL career, so a long-term deal seemed a little far fetched. He missed the entire 2019 season with an ankle injury, after playing just nine games in 2018 due to a right toe injury. In 2016, Green played just ten games due to a right hamstring tear.
A.J. Green is second in franchise history in catches (602) and yards (8,907). He has played all nine seasons of his professional career with Cincinnati.