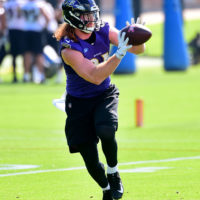 The Atlanta Falcons have acquired tight end Hayden Hurst and a 2020 fourth-round pick from the Baltimore Ravens in exchange for a 2020 second-round and fifth-round pick.
Hurst acknowledged the trade on his personal Twitter account on Monday afternoon.
Finally have a second to take a breath and soak this in. Thanks to the @ravens for brining me in and giving me a chance in the league. Baltimore was always great to me and I've got love for the city, always. This is what we sign up for ! Let's get to work @AtlantaFalcons #RiseUp

— Hayden Hurst (@haydenrhurst) March 16, 2020
The move comes moments after Austin Hooper signed with the Cleveland Browns, making him the league's highest paid tight end. Hurst will look to fill the hole made by Hooper's departure.
Hurst, 26, played two seasons in Baltimore before being acquired by the Falcons. He caught 43 passes for 512 yards and three touchdowns during his time in a Ravens uniform. Hurst caught a touchdown and had 53 yards receiving in the Ravens' playoff loss to the Tennessee Titans. The 53 yards were the tight ends second-most in his short career. He has yet to eclipse 100 yards receiving in a game.
A 2018 first-round selection out of the University of South Carolina, Hurst has yet to turn in first-round caliber stats, but a change of scenery and being out of Mark Andrews shadow could help the young tight end's cause.