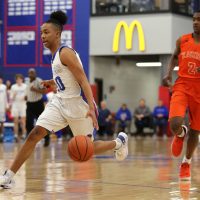 Three Chattanooga area boys' basketball teams were in action in the sectional round of the TSSAA boys' basketball state tournament on Monday night and the Cleveland Blue Raiders were the only team from the Scenic City to punch their ticket to the state quarterfinals, defeating Siegel 81-66.
Senior Jacobi Wood, who could very well be named Class AAA's Mr. Basketball on Tuesday, dropped 21 points and added eight assists. Grant Hurst nailed two three-pointers in the final quarter of play to widen the margin and give Cleveland its 33rd win of the season, which ties a school record. The Blue Raiders will punch their ticket to the state tournament in back to back years for the first time in school history.
Cleveland will play on Wednesday inside of Middle Tennessee State's Murphy Center. The opponent and time of the quarterfinal matchup has not been announced.
In Class AA, Howard and Tyner were defeated in their sub-state matchups. The Hustlin' Tigers, who won the Region 3-AA title over Tyner, missed the game-winning three at the buzzer, falling to Upperman 44-42. Tyner was outlasted by Region 4-AA champion York Institute 44-42 in their sectional game.
In Class AAA, Bradley Central looked to send their boys' team to Murfreesboro along with the ladies, who clinched a state berth on Saturday night, but were unable to do so in a 54-34 loss to Blackman.
Photo Courtsey: Chattanooga Times Free Press