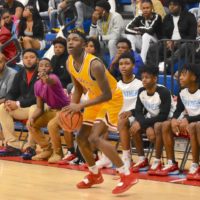 Howard needed four tries to defeat the Tyner Rams and they beat them when it mattered the most.
The Hustlin' Tigers traveled to East Ridge High School to play the Rams, who had defeated them in the District 5-AA championship game a week ago, in the Region 3-AA title game. Howard was 0-3 against Tyner this season, but defeated them 66-58 in what was the fourth matchup between the two this season.
The first half of the title game was a wild one, which included 12 lead changes throughout. The half ended as Tyner's Amarion Dillard layup fell through the net, giving the Rams a 30-29 lead at the break.
Howard would battle back though, using a strong 20-point third quarter to take a 49-40 lead entering the final quarter. The Hustlin' Tigers would hold on, securing the region crown and avenging their previous three losses to the Rams this season.
Howard was led by Kerrick Thorne's 19 points and nine rebounds. The junior guard threw down a two-handed slam dunk in the final seconds to put the nail in the coffin and give Howard the Region 3-AA crown.
The Hustlin' Tigers will host the sub-state round playing the runner-up from Region 4 while Tyner will travel to the top-seed out of Region 4.
Photo Courtesy: Chattanooga Times Free Press