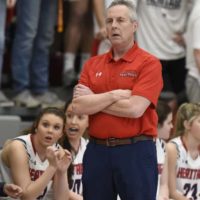 Heritage High School head girls' basketball coach Eddie Bryant has resigned from his head coaching duties, the school announced on Tuesday afternoon.
Bryant has been with the head coach of the girls' basketball team at the school since the inaugural season in 2008-2009. He has 171 career wins in 12 years as head coach of the Lady Generals, won two region championships in 2016 and 2019 and led the 2018-2019 team to the Elite Eight of the GHSA Class AAAA Girls' Basketball tournament before being eliminated by top-ranked Carver-Columbus.
Coach Bryant will remain as a teacher despite resigning. Heritage assistant coach Megan Crawford will serve as the interim head coach. She is joined by Mark Gamble to round out Heritage's coaching staff.