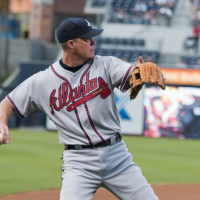 Former Atlanta Braves' third baseman and Class of 2018 Hall of Fame inductee Chipper Jones will join ESPN's Wednesday Night Baseball crew as a color analyst for the 2020 season. He will replace David Ross on ESPN's panel of analysts. Ross left the position after taking over as manager of the Chicago Cubs.
The former Brave has a history in broadcasting since the end of his playing career. Jones has appeared on baseball broadcasts in multiple capacities, but this deal with ESPN will be his first somewhat full-time gig as a color commentator. Jones' contract with ESPN is for 20 games throughout the MLB season.
The former number one overall pick in the 1990 MLB Draft, Jones played 19 seasons for the Atlanta Braves and received numerous honors throughout his career before he retired in 2012. He won the 1995 World Series with the Braves, was an eight-time All-Star, two-time N.L. Silver Slugger Award winner and the 1999 National League MVP.
Jones is arguably one of the best third baseman to ever lace up the spikes in Major League Baseball. His knowledge and experience in the game of baseball will bring an interesting perspective to Wednesday Night Baseball throughout his 20-game tenure.