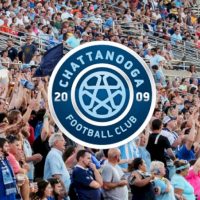 Chattanooga FC traveled to Oakland, California for the club's first professional match as member of the National Independent Soccer Association. The team played the season opener against the Oakland Roots, tying them in a 1-1 draw, which earns CFC a point. Oakland will also earn a point via the draw.
Ian McGrath made history as the midfielder scored the first goal since the club turned professional. McGrath's goal in the 33rd minute came after Kyle Carr delivered a perfect corner kick, giving him the assist. Roots forward Jack McInerney, the team's leading goal scorer last season, fired a shot past CFC goalkeeper Phil D'Amico, tying the match 1-1.
CFC will take next week off before welcoming the Michigan Stars to the Scenic City for their home opener. The Stars will host the Oakland Roots before coming to Chattanooga on March 14 at 3:00 p.m.
All of CFC's home games during their first professional season will be played inside of Finley Stadium. Tickets for the first home match are available now at ChattanoogaFC.com.