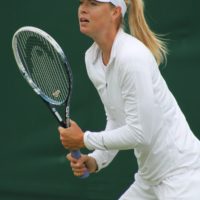 Tennis star Maria Sharapova announced her retirement via her personal Twitter account on Wednesday afternoon.
Tennis showed me the world—and it showed me what I was made of. It's how I tested myself and how I measured my growth. And so in whatever I might choose for my next chapter, my next mountain, I'll still be pushing. I'll still be climbing. I'll still be growing. pic.twitter.com/kkOiJmXuln

— Maria Sharapova (@MariaSharapova) February 26, 2020
Sharapova, 32, had a decorated tennis career, including five Grand Slam championships and a No. 1 ranking in 2005, 2007, 2008 and 2012. The Russian turned pro at age 14. In 2004, Sharapova won in Wimbledon, and added the US Open championship in 2006, the Australian Open in 2008 and the French Open in 2012 and 2014.
She received a two-year suspension in 2016 after testing positive for the banned substance meldonium. The suspension was reduced to 15 months after Sharapova appealed, but the 32-year old managed to reach only one quarterfinal following the suspension.
Maria Sharapova walks away from her 19-year tennis career with a 645-171 record in singles competition and 36 titles.