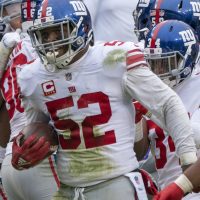 Former University of Georgia linebacker Alec Ogletree, a two-time team captain for the New York Giants, has been released by the team along with teammate Kareem Martin.
After coming to the Giants via a trade with the Los Angeles Rams, Ogletree started all 26 games he played in for the Giants. In his two years, Ogletree recorded a team-high 173 total tackles. The former Bulldog led all linebackers with five interceptions in 2018 and led his Giants team with 93 tackles that season. Last season, Ogletree started all 13 games he played in, finishing third on the team with 80 tackles and adding a sack and an interception.
Ogletree came to UGA as a five-star safety from Newnan High School in Newnan, Ga. In three seasons as a Dawg, the 6-foot-3, 232-pounder recorded 197 tackles, 20 tackles for loss, 6 sacks and two fumble recoveries. After foregoing his senior season at Georgia, he was selected with the No. 30 overall pick in the 2013 NFL Draft by the St. Louis Rams.
His release will save the Giants $8.25 million against the salary cap. Ogletree was one of the highest paid linebackers in the league, making $10 million per season.