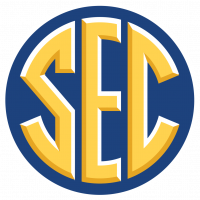 Selection Sunday for college basketball's March Madness is set for March 15, but that doesn't stop ESPN's Joe Lunardi from predicting what the field of 68 teams will look like come mid-March.
Four teams from the Southeastern Conference are in Joe Lunardi's updated field of 68; LSU, Auburn, Florida and Kentucky. Auburn and Kentucky are slotted as No. 4 seeds for each of their respective regions. Kentucky resides in the Midwest region while Auburn is the East region's No. 4 team. Florida is the No. 9 seed in the West region, headlined by Gonzaga and Will Wade's team is the No. 8 seed in Baylor's South region.
Mike White's team moves from a 10-seed to a 9-seed in Lunardi's latest bracket from the prior installment. Kentucky stays where they are at No. 4 and after a 12-point road loss to Missouri, Auburn fell from one seed to No. 3 to No. 4. LSU was narrowly defeated by Missouri and fell to Alabama in upset fashion last week, causing them to slide from No. 7 to No. 8. The Bayou Bengals were a No. 4 seed in Joe Lunardi's Feb. 4 installment of Bracketology, but after three conference losses, LSU has plummeted in the pre-Selection Sunday brackets.
Mississippi State and Alabama reside in Lunardi's "First Four Out" portion of his predictions along with Indiana and Richmond. The lack of a signature win for the Bulldogs is keeping them from the field of 68, but a strong showing in the final six games of the season and a respectable run in the SEC Tournament would sneak the Bulldogs into the field come Selection Sunday. The Crimson Tide have two signature wins over rivals Auburn and LSU, both of which were at home. Alabama has also defeated two mid-major programs in Lunardi's field, Stephen F. Austin and Furman.