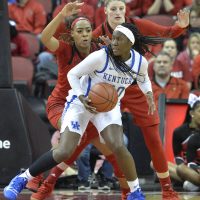 Former Bradley Central Bearette and University of Kentucky women's basketball star Rhyne Howard eclipsed 1,000 career points in the Lady Cats upset win over Mississippi State Sunday evening.
🚨 1,000-POINT CLUB!!! 🚨

Scoring the first two points out of the half, Howard has 1,000-career points at Kentucky.

She is the second fastest in program history to reach that standard behind Valerie Still. @howard_rhyne 👑https://t.co/ItCVaPZEyU #WeAreUK pic.twitter.com/JkdFd7ijwR

— Kentucky WBB (@KentuckyWBB) February 16, 2020
Howard came into Sunday's top-25 matchup needing only 14 points to join the prestigious group of Lady Cats. She ended the first half with 998 career points and her first bucket in the second half would give her 1,000 for her career. Howard notched 11 points in what was a offensive surge for Kentucky in the third quarter. The Lady Wildcats outscored State 22-9 in the period and Howard's late three would close out an 8-0 run for Kentucky.
The 6-foot, 2-inch guard scored 26 points leading the No. 18 Wildcats over the No. 6 Lady Bulldogs 73-62. The Chattanooga area native was 10 of 22 from the field, including a 3 of 9 mark from beyond the arc, and hauled in 10 rebounds in the winning effort. Her Lady Cats shot 44% from the field as a team.
The 1,000-point club is just one of the many honors Rhyne Howard has collected during her time in Lexington. The sophomore was an All-SEC selection by the league's coaches last season, an All-Freshman honoree and won SEC Freshman of the Week eight times. The Bradley Central alum capped off her sensational rookie campaign with a unanimous National Freshman of the Year award.  Howard was also named to the preseason All-SEC team by the league's coaches.
Photo Courtesy: Chattanooga Times Free Press