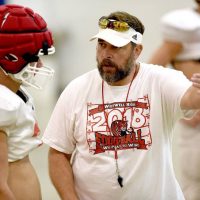 After Whitwell failed to defend their Class A State Championship from a year ago, head football coach Travis Olinger has been fired, the school announced.
Olinger was named the head coach of the Tigers on Mar. 20, 2019, replacing Randall Boldin, who took the same job at Waverly Central High School, his alma mater. Whitwell finished a dreadful 2-8 in the regular season this past year, but despite their failures in the regular season, the Tigers were able to knock off No. 1 seed Monterey 21-7 in round one of the postseason. Whitwell's postseason luck would run out after the Tigers fell to Gordonsville 17-7, bring their record to 3-9.
Travis Olinger's first-year on the job was a disappointing one. The Tigers finished 1-3 in district play and struggled on the defensive side of the ball, giving up over 30 points per game. The Tigers also gave up over 40 point six times last season, and offensively, Olinger's team scored less than 10 points five times.
Photo Courtesy: Chattanooga Times Free Press