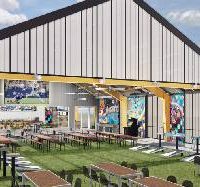 The Chattanooga area's Topgolf will be built to model the company's new single-level, open design. Chattanooga is one of three cities preparing for a new, open-styled version of Topgolf.
The new venue, which will be located at Exit 1 off of Interstate-75 near Bass Pro Shops, will consist of 36 hitting bays on one level, where other stores have three levels. Ideally, the size of the bays will be smaller than normal due to the single-level concept. The outdoor space will also contain a 13-foot programmable video wall, over 50 big screen TVs, a live music stage, and VIP party patios. The East Ridge location will also feature outdoor games, such as Jenga, fire pits and picnic tables used for dining.
The East Ridge location will come on line after the Augusta (Ga.) and Waco (Tx.) locations are open. Topgolf plans to bring on around 200 full and part time jobs when the store opens. The store is scheduled to open in late spring, according to Topgolf representatives.
Photo Courtesy: Chattanooga Times Free Press