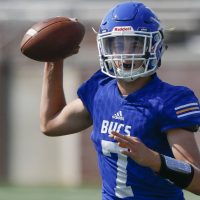 A trio of Boyd Buchanan Bucs will stay together for four more years on the gridiron, as they all announced their commitment to the University of the Cumberlands in Williamsburg, Kentucky. Defensive back Preston Edmondson, defensive lineman Hamilton Chadwell, and receiver Eli Evans will join head coach Matt Rhymer's program in the fall.
The trio led Boy Buchanan to an 8-3 record in Jeremy Bosken's first year at the helm. Evans was the mode of offense for the Bucs this fall, racking up over 1,100 all-purpose yards with 13 touchdowns, while adding 71 tackles and five interceptions on defense. Chadwell manned the defensive tackle position for the Bucs, recording 32 tackles, 13 of which were for loss and two forced fumbles. Preston Edmondson, who played both receiver and defensive back for Boyd, recorded 53 tackles and six sacks, while hauling in 16 passes for 279 yards and three touchdowns as a receiver.
East Hamilton linebacker Adam Caudle will join the three Boyd Buchanan Buccaneers in Williamsburg. In his senior year, Caudle posted 54 tackles and 17 tackles for loss, while running the ball for 973 yards and 21 touchdowns. He announced his commitment to the Pats on January 27.
Cumberlands competes in the NAIA's Mid-South Conference. The Patriots finished 10-2 overall and 6-1 in conference play. Their season ended in the NAIA FCS quarterfinals after falling to No. 2 seeded Marion University 30-0.
Photo courtesy of Chattanooga Times Free Press (www.timesfreepress.com)