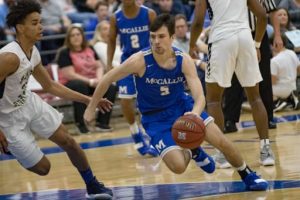 Photo credit: The McCallie School
McCallie's Dr. Pepper Ten Classic is back for the fifth year in a row. The event consists of five games over the two day period, and will feature two of the top ten high school basketball teams in the country; Sunrise Christian Academy (Bel Aire, KS) boasts the No. 5 ranking in ESPN's High School Top 25, and Chattanooga's Hamilton Heights is slotted at No. 13 in the same ranking.
Below is the schedule for the event, followed by a preview of each team, and a link to purchase tickets:
Dr Pepper Classic Schedule
Friday, January 31, 2020
11:00 a.m. Steam Logistics Dunk Contest
12:00 p.m. Mountain View Auto Group Luncheon, featuring Gary Brackett, former linebacker for the Indianapolis Colts, and founder of Brackett Restaurant Group.
6:00 p.m. Hamilton Heights vs Memphis East
8:00 p.m. McCallie vs Sunrise Christian
Saturday, February 1, 2020
4:00 p.m. Webb School of Knoxville vs Howard
6:00 p.m. Memphis East vs Sunrise Christian
7:30 p.m. Platinum Bonding Co. Three-Point Shooting Contest
8:00 p.m. Hamilton Heights vs McCallie
Sunrise Christian Academy (Bel Aire, KS) (14-2 Overall)
Sunrise Christian Academy comes from Bel Aire, Kansas, just ten miles outside of Witchita, and is led by four-star Jayden Stone and three-star Ty Berry. The 6-foot-3, 175-pound shooting guard holds offers from Kansas State, Alabama and Vanderbilt, among others. Accompanying Stone in the back court is combo guard Ty Berry. The Northwestern signee is rated as a three-star by ESPN's recruiting rankings. Sunrise has competed in some of the top high school basketball tournaments and events this season, including the City of Palms Classic, where they fell to Hamilton Heights 61-59.
Hamilton Heights (Chattanooga, TN) (20-2 Overall)
The Hawks are coming off of a trip to Quincy, Illinois for the Quincy Shootout, where they picked up two wins over Mehlville (St. Louis, MO) and St. Louis Christian Academy (St. Louis, MO). Head coach Zach Ferrell's team sits at 20-2 on the year, and a big part of that success is University of Florida signee Samson Ruzhentsev. The four-star small forward stands 6-foot-7 and is dynamite at the rim. Ruzhentsev won last year's dunk contest at the Dr Pepper Classic. The Hawks are loaded with talent other than Ruzhentsev. New Mexico signee Bayron Matos mans the power forward position for the Hawks, and the offense runs through junior point guard Dominiq Penn, who holds offers from Akron and Toledo, among others.
Memphis East (Memphis, TN) (15-4, 4-0)
Memphis East won three consecutive state titles from 2016-2018, and finished runners-up last season in the TSSAA Division I-AAA State Championship tournament. The Mustangs are led by Duane Posey, a three-star small forward who recently transferred from Melrose High School to Memphis East. Posey is the sixth best player in the state of Tennessee, according to 247Sports.
McCallie (Chattanooga, TN) (10-12, 1-2)
The host school is led by Auburn football signee Jay Hardy, who mans the middle for the Blue Tornado. McCallie guard Eric Rivers has shown the ability to score the ball at will. The Blue Tornado sit at 10-12 on the year, and their 1-2 record in District play have them seeded third behind Baylor and Knoxville Catholic.
Webb School of Knoxville (Knoxville, TN) (10-5, 2-0)
The Spartans are led by future Tennessee Volunteer Keon Johnson. The 6-foot-4 guard is a consensus four-star prospect, and the No. 1 player in Tennessee according to ESPN. Johnson signed with the Vols over other offers from Virginia and Ohio State. The Spartans sit at 10-5 overall, and 2-0 in district play. Webb defeated Chattanooga powerhouse Baylor earlier this season 55-54.
Howard (Chattanooga, TN) (18-4, 11-1)
The Hustlin' Tigers have had a great season so far, sitting at 18-4 and 11-1 in district play with their only loss coming from the Tyner Rams 65-62. First year head coach Walter McGary inherits a team that made a state playoff appearance last year, but fell to East Nashville Magnet 78-75. McGary's bunch is young, so the success of the Howard basketball program could be here to stay. The Hustlin' Tigers will square off with Keon Johnson and Webb Saturday at 4:00 p.m.
General Admission and reserved court-side tickets are now available for purchase. Tickets for the Dr Pepper Classic can be found at this link: https://events.attend.com/f/1383790906#/reg/0/