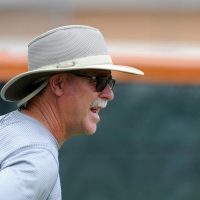 Dade County head football coach Dale Pruitt has been named the new coach for the Marion County Warriors.
Pruitt, father of University of Tennessee head coach Jeremy Pruitt, coached Marion County to back-to-back 7-win seasons in 2004-05 & is nine wins from 300 for his career that has spanned over 40 years.  In Pruitt's one season in Trenton, the Wolverines were 2-8 overall, and 2-5 in Georgia's Region 7-AA. He will inherit a Marion County program that went 3-8 a season ago, and finished third in Region 3-AA.
Dale Pruitt has had a lot of success during his 41 years as a coach. Pruitt's teams have reached the state playoffs 25 times, won 13 region championships and took Plainview High School to the Alabama Class AAA state championship game twice, losing both. Coach Pruitt's 121 region wins rank among the best in AHSAA football coaches. Pruitt coached four teams to undefeated seasons (1983 Pisgah, 1990 Plainview, 1991 Plainview, and 1999 Plainview).
Marion Athletic Director Chuck Keefe confirmed the news of Pruitt's hiring. Keefe also mentioned that Dale Pruitt will teach physical education at the school.