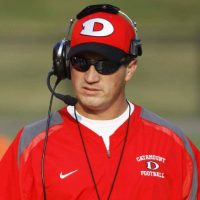 Dalton High School head football coach Matt Land was awarded with the NFL's Don Shula Coach of the Year Award. The announcement came at the NFL's Pro Bowl Sunday on afternoon.
Land was nominated by the Atlanta Falcons, and received their Coach of the Year award. That award qualified Land, along with 31 other high school coaches from across the country, for the Don Shula Award. The Don Shula Award, established in 2010, awards one high school coach across the country for displaying great character, integrity, leadership, dedication to the community, commitment to player health and safety and on-field success.
Matt Land will be recognized for this award at Super Bowl LIV in Miami. Land is the first winner from the state of Georgia, and the tenth winner of the Don Shula Award. Land will receive $15,000 from the NFL Foundation, $10,000 of which will go to their high school's football program. He will also attend the Super Bowl a as special guest of the NFL.