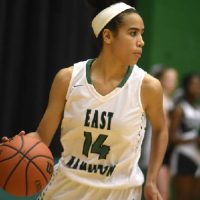 The 2020 McDonald's All-American selections were announced on Thursday night. Three Chattanooga area hoopers were selected to the game. East Hamilton's Madison Hayes, the No. 29 player in the ESPN 300 rankings, and Hamilton Heights teammates Kamilla Cardoso (No. 5 overall player according to ESPN), and Treasure Hunt (No. 30 overall player according to ESPN). The three Scenic City hoopers are the most to have been selected to the game. Two years ago, Hamilton Heights' Elizabeth Balogun and Jazmine Massengill were the first Chattanooga basketball players to be selected to the McDonald's All-American game.
🚨The 2020 roster has dropped! 🚨 These @McDonalds All Americans are no doubt the future of the game 💪🏼🔥​

Grab 🎟 to see them in Clutch City ➡ https://t.co/3RGeHuLrxa #WhereTheFutureStarts pic.twitter.com/2CwkcXZEm0

— McDonald's All American Games (@McDAAG) January 23, 2020
Madison Hayes has had a stellar senior season for the Lady Canes. The Mississippi State signee is averaging 26 points, 12 rebounds, 4.5 assists, four steals and three blocks per game. East Hamilton is 11-11 overall this season, and 4-3 in District 5-AAA, which places them third in the district standings.
Hunt and Cardoso are two of the main reasons why Hamilton Heights boasts the No. 2 ranking in MaxPreps Xcellent 25 rankings. Cardoso averages 17 points, 11 rebounds, four blocks and two assists this season, while Hunt is averaging 21.5 points, five rebounds, 3.1 assists, two steals and two blocks. Kamilla Cardoso has signed with Syracuse, and Treasure Hunt signed with Kentucky during the NCAA's November signing period.
The McDonald's All American game is slated for April 1. The girl's game will be televised by ESPN2, and played inside of Houston's Toyota Center, the home of the Rockets. The girl's game will tip-off at 4:00 p.m. CT and the boys will begin at the conclusion of the girl's game.