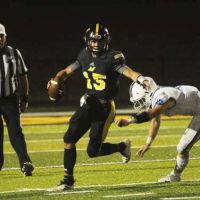 North Murray 2020 three-star QB/WR Ladd McConkey joined Press Row on Tuesday after receiving a scholarship offer from the University of Georgia. Georgia head football coach Kirby Smart attended North Murray's home basketball game last night and watched Ladd and his teammates cruise to a 54-44 win over Sonoraville. After the game, Coach Smart visited with Ladd and his family at the McConkey residence, where he presented Ladd with a full-scholarship offer to play football at the University of Georgia.
Since receiving the offer from Georgia, two more Southeastern Conference programs have contacted Ladd, one of which also presented him with an offer.
Listen to Press Row's interview with Ladd at the audio player below to hear him relive last night's experience and learn about the other two SEC programs interested in his services.
Ladd McConkey – Press Row
Tuesday, January 21