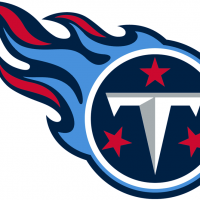 The Tennessee Titans came one game shy of Super Bowl LIV, losing to Patrick Mahomes and the Kansas City Chiefs in the AFC Championship Game.
The Titans built an early 17-7 lead after offensive lineman Dennis Kelly hauled in a one-yard touchdown pass from Ryan Tannehill. The Chiefs would storm back though, much like they did in the Divisional Playoff round. Mahomes and the offense scored 28 unanswered points to take a 35-17 lead. Tannehill would throw a late touchdown pass, but it was too little too late for the Tennessee Titans, who had their season come to an end inside of Arrowhead Stadium.
Titans running back Derrick Henry, who had totaled 377 yards in two postseason games, was held to just 69 yards Sunday. Henry's 69 yards are his lowest total since he rushed for 63 yards against Carolina in Week 9. Tennessee was 8-0 when Derrick Henry rushes for 100 yards or more, and just 3-8 when he rushes for less than the century mark. The University of Alabama product rushed for just 7 yards in the second half.
A win would've put the Tennessee Titans in the same company as the 2010 Green Bay Packers and 2005 Pittsburgh Steelers as the third No. 6 seed to make the Super Bowl. The Titans have not been to the Super Bowl since the 1999 season, where they were a yard short of a championship against the Saint Louis Rams.
The underdog Titans made some noise this postseason, defeating the No. 1 and No. 3 seeded teams in the AFC, but will head home earlier than many players and team personnel had hoped for. Meanwhile, the Kansas City Chiefs have punched their ticket to Miami for Super Bowl LIV where they will square off with the San Francisco 49ers.