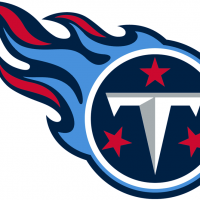 The Tennessee Titans travel to Arrowhead Stadium on Sunday afternoon to play in their first AFC Championship game since 2002. This is Kansas City's second in as many years. The Chiefs fell to the eventual Super Bowl Champion, the New England Patriots, in last year's contest.
Tennessee running back Derrick Henry has been the key to the Titans' postseason success this year. Henry has totaled 377 yards on 64 carries in two postseason games, and torched the NFL's No. 7 (Baltimore) and No. 8 (New England) run defenses in the process. Despite Henry's success on the ground, he has only one rushing touchdown this postseason. Henry will have to find the end zone early and often, and Titans quarterback Ryan Tannehill will have to play mistake-free offensive football if they want to advance to Super Bowl LIV in Miami.
The Titans defeated the Chiefs 35-32 in Week 10, but the Titans' defense was torched by Patrick Mahomes and the Kansas City offense. The Chiefs moved the ball at will, gaining 530 total yards, which was their highest total of the season, and Mahomes threw for 446 yards, the second most of his career. Tennessee's defense will have to find a way to get pressure on Mahomes, and limit Chiefs receiver Tyreek Hill's production.
The AFC Championship game kickoff is slated for a 3:05 p.m. ET. The game will be broadcasted live on ESPN 105.1 The Zone.