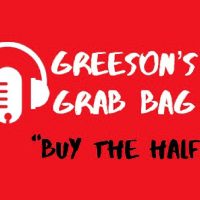 Vikings +7 over San Francisco
Got a couple here. First, "George, your folding money's come unstopped." Yes, George Kittle has a pay day coming, but for the 49ers to advance Kittle needs to be the best player on the field. In the run game, Kittle must handle ends Danielle Hunter and/or Everson Griffen.
In the passing game, Kittle will see a lot of Anthony Barr and Harrison Smith, two of the most athletic coverage guys in the league at their size. For the Vikings, well, "We thought you was a toad" could easily be the turn of fortune for Kirk Cousins. And with arguably the best RB1-WR1-WR2-TE1 in the league — if Dalvin Cook, Adam Thielen, Stefon Diggs and Kyle Rudolph are all healthy — Cousins' job is made much simpler. Not sure if the Vikings will R-U-N-O-F-F with a win, but this feels like a field goal game either way. 49ers, 24-21.
Seattle +4.5 over Green Bay & "Under" 48.0
"Is you or is you not my constituency?" For the regulars around these parts, you know how tough this pick is for me because I really want the Packers to win because I really want Aaron Rodgers to get another ring. And while Green Bay — the NFL's version of "a geographic oddity, two weeks from everywhere" — is the league's outpost, it's going to be in the teens with wind Sunday night. Packers, 23-20.
Houston +9.5 over Kansas City & "Over" 49.0
"You ain't no kind of man if you ain't got land." Delmar's philosophical's gem and life lesson has a football equivalent, and it applies directly to Andy Reid. 'You ain't no kind of all-time coach with a Super Bowl title.' Reid's career is the epitome of an all-time regular season great and a postseason phantom. Regular season: 207-128-1, which is a .618 winning percentage. Postseason: 12-14 overall (.462) and 2-5 with the Chiefs (.286). Reid's 207 wins are seventh all-time and the most of any coach without a title.
You can read Jay's 5-at-10 weekdays on TimesFreePress.com