The quirkiest head coach in college football is heading to the Southeastern Conference. This afternoon, Pete Thamel of Yahoo Sports reported that Mike Leach will become the next head football coach at Mississippi State, according to a source with direct knowledge of the situation.
Source: Mike Leach will be the next head coach at Mississippi State.

— Pete Thamel (@PeteThamel) January 9, 2020
While his eccentric personality serves as his true identifier, Leach has become well-known for his success at outposts Texas Tech and most-recently Washington State. He is often praised for his offensive-mind, play-design and player development.
Leach takes over for Joe Moorhead at Mississippi State, who was fired after just two seasons in Starkville. Moorhead's teams appeared in back-to-back bowl games, but the Bulldogs' record fell from 8-5 in 2018 to 6-7 this season. Reports say off-field issues were also a determining factor in the termination of his contract.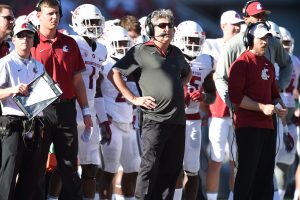 With the hiring of Leach, Mississippi State instantly gains a share of the spotlight due to his eccentric personality and winning ways.
Leach will certainly have his work cut out for him. Mississippi State is an original member of the Southeastern Conference, which began play in 1933. Since then, the program has just one SEC title, which came in 1941 under then-head coach Allyn McKeen. Dan Mullen had a successful tenure at Mississippi State from 2009-2017, leading the program to eight bowl game appearances in nine seasons before accepting the Florida job. Outside of Mullen's nine-years as head coach, the program has failed to produce a consistent winner.
Leach is 139-90 over 18-seasons as a head coach. He also has SEC experience, having served as Kentucky's offensive coordinator and quarterbacks coach under Hal Mumme in 1997 and 1998.