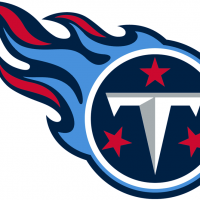 The Tennessee Titans used a breakout game from Derrick Henry, and great defensive play to upset the Patriots 20-13 on Saturday night.
Derrick Henry put the Titans on his back, rushing for 182 yards and a touchdown. Henry, who turned 26 on Saturday, rushed for a total of 184 yards in two playoff games for Tennessee last season. The University of Alabama product celebrated his birthday by racking up the most rushing yards in a playoff games against a Patriots team led by Bill Belichick.
Tennessee's defense was able to play "bend but don't break' defense against Tom Brady and the Patriot offense throughout the game. New England led the time-of-possession and total yardage categories, but couldn't capitalize when the opportunities presented themselves. Tom Brady threw a pick-six late in the fourth quarter to seal the Titans first playoff victory since the 2017 postseason.
The Titans will travel to Baltimore to tangle with the first-place Ravens on Saturday, January 11. Kickoff for the Divisional round game is set for 8:15 p.m.