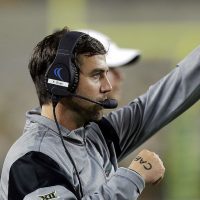 Newly-hired Arkansas head football coach Sam Pittman announced on Monday that Kendal Briles will serve as the program's new offensive coordinator.
Briles is the son of former Baylor head football coach Art Briles, and held the same position at the school under his father from 2015-2016. Baylor averaged 48.1 points-per-game during a 10-3 campaign in 2015 and came in at No.13 in the final AP Poll. That same season, Briles was named a finalist for the Broyles Award, given annually to the nation's top assistant coach in college football.
2016 was a tumultuous year for Baylor University, the school's football program and the Briles family. The program came under scrutiny when news broke that university officials had failed to take proper action after reported rapes and other assualts by Baylor football players. The acts of misconduct led to the dismissal of head football coach Art Briles, Kendal's father, and the eventual resignations of university president Ken Starr and athletic director Ian McCaw. Two other university employees connected to the football program were also fired.
Briles landed on Lane Kiffin's staff at FAU in 2017 and served as assistant head coach, offensive coordinator and quarterbacks coach on a team that won the Conference USA Championship.
Briles then headed to Houston to assume the same roles he previously held at FAU. The Cougars experienced great success on offense under his direction, but Briles resigned after just one season at his alma mater to join Willie Taggart's staff at Florida State as offensive coordinator and quarterbacks coach. He was not retained by new FSU head coach Mike Norvell following Taggart's firing.
"Kendal brings an innovative offensive approach to our coaching staff," Pittman said when announcing the hire. "His offenses have been successful by both running and throwing the football in some of the nation's most competitive conferences. He is well known for his ability to both recruit and develop young men into outstanding football players."
Photo Credit: ESPN.com