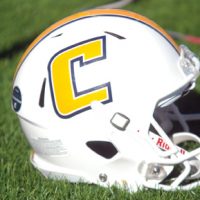 Rusty Wright and his staff received letters of intent from fourteen student-athletes in the 2020 recruiting class during this week's early signing period. The Mocs will add eleven high school seniors to their roster, and three transfers from Division I institutions.
Of those fourteen prospects, four of them are homegrown talent. Prep standouts Reid Williams (Ringgold), Lucas Brown Jr. (Red Bank), and Christian Martin (Baylor) put pen to paper, signing with the Mocs on Wednesday. Purdue transfer and Chattanooga native Giovanni Reviere will return to the home-state Mocs to play out the rest of his eligibility. Reviere, a defensive lineman who played his high school football at McCallie, recorded 30 tackles, 5.0 tackles for loss, and 3.0 sacks in his redshirt-freshman season at Purdue. During his time at McCallie, Reviere was a first-team All-State selection, and was a Tennessee Titans Mr. Football Lineman Semifinalist in 2016.
John Reviere is accompanied by two other Division I transfers. Former Western Michigan receiver Tyron Arnett will join the Mocs next season. As a Bronco, Arnett received Mid-American Conference All-Academic honors. In 19 games with Western Michigan, Arnett hauled in 21 passes for 287 yards and one touchdown. Western Kentucky transfer Gino Appleberry will also join the Mocs. Appleberry played in thirteen games for WKU. He was able to tally 212 rushing yards and three rushing touchdowns in his career. Reviere, Arnett, and Appleberry will enroll in the 2020 spring semester.
Rusty Wright was also able to receive a signed LOI from quarterback prospect Ty Gossett. The Asheville, N.C. native graduated high school in 2019, but attended Jireh Prep in Matthews, N.C. where he accounted for 19 touchdowns in one season. As a three year starter for T.C. Roberson High School, Gossett tossed 77 touchdowns, and accounted for tallied over 7,000 yards through the air. Gossett will enroll in the spring in hopes to learn the UTC offense and be able to contribute as early as possible.
This is a good start for the Chattanooga Mocs in the recruiting department. Coach Wright and his staff will now turn their focus to the second signing day, which will take place on Wednesday, February 5, 2020.