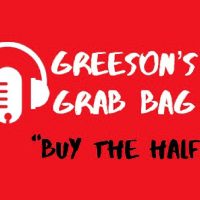 Let's roll with updated lines, info and intel and try to close strong and we will roll out three editions of bowl picks each Thursday. Deal? Deal. (Side goal: We set a very high bar for our picks every year and aim for 60 percent. That will be a tall order this year after the dreadful limp out of the gate.
Charlotte plus-6.5 over Buffalo
We believe in the Fighting Healys. A lot. And more importantly, the Fighting Healys believe in their head coach, who has become a great motivator. And you will see this throughout the course of the bowl picks — and it's much tougher later in the bowl calendar — but trying to gauge the motivation of teams in a bowl is a huge part of handicapping these babies. And it's hard not to see the 49ers not motivated for the first bowl game in program history, right? You betcha. (I also like the over here at 51.5, but check back for an official go because of the weather and wind possibilities in the Bahamas. Deal? Deal.)
SMU minus-3 over FAU
Few teams are hotter than the Owls. Winners of six straight and conference champs, the Owls got to 10 wins. That got Lane Kiffin another shot in the SEC. Some assistants are gone, some are coaching with unknown futures. SMU's late-season struggles were about some untimely injuries. Buy the hook here for safety and enjoy the tradition and history of the Boca Raton Bowl. (And we'll all collectively miss Lane's FAU Twitter. There's no way Lane is going to keep the level of trolling he reached with the Owls, right?)
Georgia Southern minus-4 over Liberty
Two 7-5 teams that have high-octane offenses, so why side with the Statesboro Sprinters? Well, Liberty's seven wins are built on a lot of fraud. Here are Liberty's wins: Buffalo early (at home), Hampton, a bad New Mexico, a worse UMass and a two-game sweep over a terrible New Mexico State bunch. Yes please, especially at that number.
FIU plus-3 over Arkansas State
Butch Davis is 8-1 against the number in his career in bowl games. Repeat: FIU coach Butch Davis is 8-1 against the spread in bowl games. What does that mean? It means that Butch and his staff through the years have found a way to maximize the extended time and make sure his guys have a game plan and are prepared. There's value in that friends.
Washington minus-3 over Boise State and under 50
I understand the storyline, but if you're Chris Petersen in your final game, putting his Huskies against the program he helped building into a Group of Five monster — You have to also believe that Jimmy Lake, the Huskies coach in waiting, wants to make sure this is a good effort, right? Washington is universally better than Boise State. At almost every position. Also, it feels like the Huskies are going to play hard for Petersen, who will certainly not want to run it up on his former program either.
Fab 4 picks this season: 63-51-3 (55.3 percent against the number)
Bowl picks this season: 0-0
You can read Jay's 5-at-10 weekdays at www.TimesFreePress.com