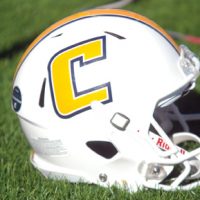 UTC running back Aliym Ford and defensive lineman Devonsha Maxwell received All-American recognition from HeroSports.com. Ford was tabbed first-team All-American as part of the freshman squad, and Devonsha Maxwell was named to the honorable mention All-American sophomore team.
This honor is one of the multiple Aliym Ford received this postseason. The freshman from Florence, South Carolina rushed for 1,081 yards and nine touchdowns, which was tied for the most on the team. His 1,081 yards were seventh most in Southern Conference history by a freshman. Ford managed to finish fifth in the Jerry Rice Award voting despite missing the final two games due to injury.
Devonsha Maxwell led the Mocs defensive line with 7.0 sacks in 2019, and received first-team All-SoCon selection. Maxwell was honored as a freshman All-American by HeroSports.com in 2018. The Valdosta, Georgia native finished the season with 46 tackles, 13 of which were for loss.
Ford is the third consecutive freshman to receive All-American honors for Chattanooga. Maxwell received All-American honors in 2018, while offensive lineman Cole Strange received the same honors as a freshman in 2017.