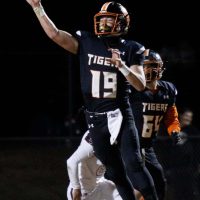 Meigs County walked in to the Division I-AA State Championship game with an undefeated Peabody team awaiting them inside of Cookeville's Tucker Stadium. After leading 16-7 at the half, Peabody would strike for 20 second half points en route to a 27-16 win.
Tiger quarterback Aaron Swafford, the Tennessee Mr. Football runner-up for Class AA, did all the scoring for the Tigers in the opening 24 minutes. The Navy commit carried the ball 15 times for 70 yards with two scores, completed one pass for 40 yards, and added two two-point conversions in the first half. Peabody's defense would make the second half adjustments necessary to leave Cookeville with their second State title in as many years.
Peabody quarterback and Tennessee Mr. Football award winner Cooper Baugus' third-quarter touchdown closed the Meigs lead to 16-14, and Golden Tide tailback Walter Dickson torched the Tigers defense on the ground. Dickson was named the game's MVP, rushing 22 times for 155 yards and a score.
The loss ends Meigs' season at 13-2 overall, and 4-0 in district play. The Tigers were able to make it back to the State Championship game for the first time since 1995.