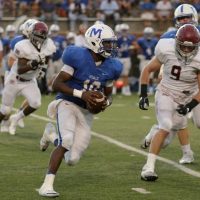 McCallie had a bus malfunction on the way to Cookeville, but once the bus rolled into Tennessee Tech's Tucker Stadium, the Big Blue showed no signs of a slow down on their way to the Division II-AAA State Championship crown.
MBA completed an 81-yard touchdown pass to tie the game at 7  late in the first half. That was all the offense they'd be able to muster as the Blue Tornado rattled off 21 unanswered points to a 28-7 win in the BlueCross Bowl.
McCallie quarterback DeAngelo Hardy, who was the Division II-AAA championship game MVP, totaled 103 rushing yards with two touchdowns. He also completed five passes for 59 yards. His cousin, Auburn commit Jay Hardy, had three tackles and two sacks.
The Big Blue's defense, led by Jay Hardy and Aaron Crowder, applied all the pressure on MBA quarterback Marcel Reed. Hardy and Crowder combined for 4.5 sacks, and James Howard and Adam Smith found their way to the quarterback as well. The defense also forced a turnover, Reed had a pass intercepted by McCallie's Thomas Byrd, which he returned 32-yards for a touchdown.
The win gives McCallie its second State Championship in program history, and the school's first since 2001.
Image courtesy of: Chattanooga Times Free Press (www.timesfreepress.com)