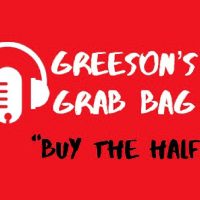 THE Ohio State-Wisconsin minus-16.5 over the 55
THE Ohio State may go over the total on its own in this one. THE Buckeyes with that speed indoors? Yes please. Keep an eye on the health of Justin Fields, but there's no way you can avoid the facts here. THE Ohio State has not covered huge numbers all year only twice since the season opener: One was against a Rutgers team that THE OSU was completely sleep-walking and the other was not covering 20 against Penn State in a game that THE OSU could have easily won by 35 with the multiple, TD-swinging turnovers. Am I worried about THE OSU knowing it is in with a win or a loss? Yes, I am. But I also believe that they also know the divide between being the 1 seed and the 2 is huge, and style points matter.
Clemson minus-28 over Virginia
Speaking of teams with their foot on the gas, holy buckets of petrol, Dabo's Dudes are crushing people. Since hearing the "They should have lost to UNC (and they should have)" you want to know what the results have been? They are 7-0 overall and 6-1 against the spread (the only non-cover was a disinterested walk over Wofford). The spreads they have covered were -26 over FSU, -24.5 over Louisville, -35 over BC, -35 over NC State, -34.5 over Wake Forest and -27.5 over South Carolina. In fact, not riding the Dabos after the bye week is one of the biggest entertainment-hunting miscues in recent memory. And don't you believe that a) Virginia is truly happy to just get there, and b) Clemson is truly embracing the double middle-finger tour against everyone?
LSU-Georgia under 56
Yes, I have backed the Bulldogs because they were title pick before the start of the season and there's no way I'm bailing now. Hey, dumb and loyal is still loyal and smart and shifty will always be shifty. Everyone is on LSU. Everyone. (That gives a lot of credence to the "Us against the world" mentality.) Plus, LSU has a mulligan; Georgia has to win to advance. Yes, the lack 100 percent DeAndre Swift worries me, in the grand scheme. But I think Georgia is going to keep this one close — and if it gets north of 7, I think you have to lean that way — which means it has to be a low-scoring affair.
Utah-Oregon under 47.5
Outside in the elements with two very good and very experienced defenses. And get on this one now friends. It opened at 50 and could very well get close to 45.
FAU minus-7 over UAB
UAB tippy-toed into the Conference USA title game because Louisiana Tech had to suspend its quarterback for the end of the regular season. Lane Kiffin has a lot to love here in that a) his offense takes care of the ball, b) his defense forces turnovers and c) this kind of platform is a great chance for his continued résumé floating. Buy the half here to be safe, but this feels like a two- or three-score win for the FAU Kiffins.
You can read Jay's 5-at-10 weekdays at https://www.timesfreepress.com/