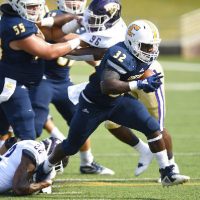 Chattanooga freshman running back Aliym Ford was named one of the twenty finalists for the Jerry Rice Award Monday afternoon. Ford rushed for 1,081 yards and was just 9 yards shy of the UTC freshman rushing record. His 108.1 rushing yards per game were tops among all FCS freshman running backs and eleventh in the country overall.
Ford is the fourth Moc to earn a spot on the list, joining Terrell Robinson, Jacob Huesman and Lucas Webb.
The Jerry Rice Award is awarded annually in the United States to the most outstanding freshman player in the FCS. The award will be celebrated at the STATS FCS Awards Banquet, which is scheduled for January 10, 2020 in Frisco, Texas.