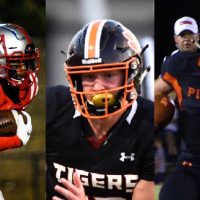 Baylor School running back Elijah Howard, Meigs County quarterback Aaron Swafford and South Pittsburg running back/defensive back Ronto Tipton have all been named finalists for the Tennessee Titans Mr. Football award.
Howard, who transferred to Baylor from the Webb School of Knoxville before this season, is a finalist at the Division II-AAA classification. The junior rushed for 1,422 yards and 20 touchdowns, while helping the Red Raiders to a 9-1 finish in the regular season before being bounced in the first-round of the playoffs by Montgomery Bell Academy. Howard is currently committed to the University of Tennessee.
Aaron Swafford is no stranger to the Mr. Football award, having been a finalist the last three seasons and winning the 2A award last year. The Naval Academy commit has displayed duel-threat capabilities throughout his time at Meigs County. Swafford has rushed for 1,379 yards and 18 touchdowns and thrown for 885 yards and nine touchdowns this season. Defensively, he's tallied 49 tackles to go along with four interceptions. Meigs County (11-1) will face Oneida (8-4) in the 2A quarterfinal Friday night.
Tipton, a do-it-all type of player, has shown great ability from the running back position. Undefeated South Pittsburg has averaged 57 points per game this season and Tipton's 900 all-purpose yards have made him a nightmare for opposing defenses. After missing time earlier this season, he's averaged 16.7 yards per carry. Tipton has also hauled in two interceptions and returned two punts for touchdowns. South Pittsburg (11-0) will host Gordonsville (5-7) this Friday in the 1A quarterfinals.
Three finalists from each of Tennessee's nine classifications and finalists for overall kicker are invited to attend the Mr. Football award ceremony at Nissan Stadium in Nashville on December 2.
Boyd Buchanan quarterback Eli Morris (DII-AA), East Hamilton kicker Alen Karajic (kicker, all classifications), McCallie quarterback DeAngelo Hardy (DII-AAA) and Tyner quarterback Martavius Ryals (2A) were all semifinalists for the Mr. Football award.