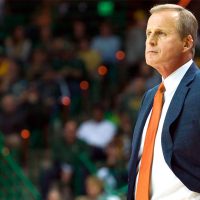 University of Tennessee men's basketball coach Rick Barnes said Monday morning that he doesn't think the university will renew the series with Memphis following next season. Tennessee and Memphis are scheduled to play in December of next year, which would serve as the third and final game of the three-game set. The programs initially agreed to play a home-and-home series in 2017, then decided to add the Nashville game a year later.
The in-state rivalry has become a fan favorite over the years. Tennessee and Memphis played annually from 1988 to 2002, with the Vols winning nine of the 15 contests during that span of time. The Tigers went 5-4 against the Vols from 2005 to 2013, including three-straight wins before the series was resumed in 2018.
If you're looking for a reason as to why Branes doesn't believe the series with Memphis will be renewed, look an further than Tigers head coach Penny Hardaway. A season ago, things got heated late in the contest before the Vols downed the Tigers by the score of 102-92. Jordan Bone and Alex Lomas exchanged words and the refs issued a double-technical. Members of Tennessee's bench crossed the half court line during the incident, but returned to the bench without additional confrontation.
"The entire Tennessee team ran over to fight," Hardaway told the media. "Their entire team emptied the bench to run over. They didn't come over because it was a timeout. You could visibly see guys with their fists balled, talking trash to our guys. It was almost like a standoff."
"I don't know who Rick Barnes thinks I am, but I'm not a dude that's going to mess around about anything," Hardaway continued. "I just call it like I see it. No matter how he's trying to make things seem, and I think it's kind of low class how he's trying to downgrade my guys for flopping and all that. Man, come on, give me a break."
Hardaway was referencing a statement made by Tennessee guard Jordan Bone. Bone had previously spoken with the media and voiced frustration about Memphis flopping for foul calls throughout the game.
"We knew they were going to come out and flop and that's what they did."
At the conclusion of Hardaway's media availability he said, "Rick Barnes, get the F*** outta here."
One can only imagine Hardaway's words have something to due with the comments Barnes' made today when he said the series is unlikely to be renewed.
#20 Tennessee will host #16 Memphis on Saturday, December 15. Tip-off is set for 3 p.m. eastern and the game is scheduled to be televised on ESPN.
Tennessee leads the all-time series with Memphis 15-11.