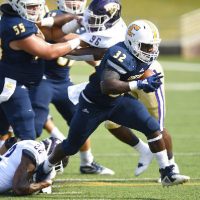 Aliym Ford left Saturday's contest against Samford after only three carries, but his running back counterpart Elijah Ibitokun-Hanks tallied 139 yards rushing to go along with two rushing touchdowns in the winning effort. Quarterback Nick Tiano added 196 passing yards, two passing touchdowns, and a rushing score to lift the Mocs (5-5, 4-2 SoCon) over the Bulldogs (4-6, 3-4 SoCon).
The Chattanooga defense forced two key turnovers to help solidify the victory. Defensive back D.J. Jackson intercepted a Chris Oladokun pass that halted a drive at the UTC 33 yard line. Aaron Floyd intercepted back up quarterback Liam Welch's pass early in the fourth quarter.
Welch's late touchdown run gave Samford a sign of life late, but UTC was able to recover the ensuing onside kick to eventually ice the game.
The Mocs will play host to SoCon rival Citadel (6-4, 4-2 SoCon) next. UTC left Charleston with a 29-28 overtime win last season. The game will be broadcasted on ESPN+. Kickoff is set for 2:00 P.M.