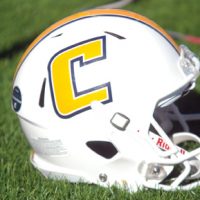 The Chattanooga Mocs (4-3, 3-0 SoCon) continued their winning ways in the Southern Conference gauntlet with a 16-13 win over rival ETSU (2-5, 0-4 SoCon). Victor Ulmo's 30-yard field goal with 15 seconds on the clock iced the game and gave UTC its third conference win of the season. Before his game-clinching kick, Ulmo missed three field goals and an extra point. The three field goal misses were from 41, 42, and 36 yards. Ulmo entered Thursday's matchup 7-9 (77.8%) on field goal attempts this season.
Freshman RB Aliym Ford continued to shine in his debut season as a Moc. The South Carolina native tallied exactly 200 yards rushing on 31 carries, which include . Ford's fourth 100 yard rushing game came Thursday night against the Bucs, which only adds to an already stellar freshman campaign. 
The win puts Chattanooga in the driver's seat of the Southern Conference standings. Only the Mocs and the Furman Paladins (4-2, 3-0 SoCon) are undefeated in SoCon play. After next week's road test against Wofford, UTC will host those Paladins on November 2nd at Finley Stadium.